Dear Parents,
A big Thank you goes out to all of our parents, grandparents and Ms. Deb for stopping by the classrooms to read in celebration of Dr. Seuss' birthday. Many of the children had fun hanging out in their PJ's and having a birthday cake treat.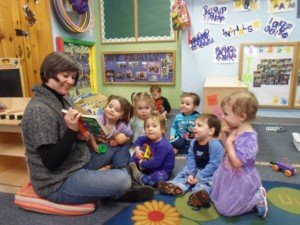 In house registration is now over and the center is now open for summer and fall registration.  If you know anyone interested in a child care facility then please encourage them to stop by for a tour. If you plan on continuing on in the fall but have yet to complete re-registration, please do so soon to secure your child's spot in their new classroom. Many classrooms book up fast once we open registration to the public. Also remember you get one week of free tuition for one of your children if you recommend someone to the center. Once they have been here three months you get your week!
We are in the process of putting together our summer curriculum and we are excited to share that Judy Pancoast will be kicking off the summer fun with a concert on June 19th.
Hopefully by the time next month's newsletter comes around the weather will be more spring-like.
Dates for the Calendar
Nursery Bake Sale – Wednesday, March 18th
Museum Week – March 23rd thru 27th – 'Crayon Rubbing'.
Kindergarten Field Trip – Wednesday April 1st to the See Science Center
Picture Day – Tuesday April 7th and Wednesday April 8th (retake day April 21st)
Judy Pancoast Concert – April 15th – 10am
Walkathon – Is tentively scheduled for early May.
The next Parent Teacher Advisory Board meeting will be held on Wednesday, March 25th at 5.35pm. New members are always welcome. Please feel free to come along and join us! Child care will be provided.
Happy St. Patrick's Day!
Little Frogs & Polliwogs