Little Frogs and Polliwogs is a Licensed Plus Early Learning Center located in Manchester, NH. We offer full-time and part-time programs for children ages 6 weeks to 10 years, including before and after school programs. Check out our programs page for more detailed information on each classroom.
History: Little Frogs & Polliwogs has been operating since 1979. Geraldine Silck is the current owner and purchased the center in 2004.
We are very proud of our center and the caregivers who work here. Our policy has always been and will remain an "open-door" policy. We have an honest and comfortable relationship with the families who are enrolled. We look forward to adding your family to ours.
About Us: At Little Frogs and Polliwogs, we pride ourselves on the professionalism of our staff. Many of our Lead Teachers are degreed teachers, who, along with other staff members, continue their education by taking college courses and attending workshops. Each staff member is required to take at least eighteen hours of workshops per year. We strive to ensure that 100% of our staff are CPR and First Aid certified and that many staff members take a water safety course.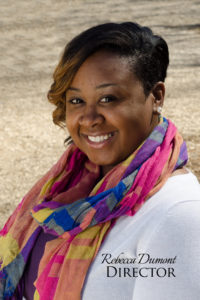 Rebecca Dumont (pictured left) is our center Director. She has been an employee of LF&P since 2006. She has worked in the child care field for 15 years, with 8 as a kindergarten teacher and holds a Masters Degree in Early Childhood Education.
MISSION
Our mission is to have a positive and lasting effect on every child who enters our center. We strive to help children tap into their potential, create happy memories, and develop a positive self image that will guide their future for many years to come.
PHILOSOPHY
We believe that play is a child's work and that, through hands-on and creative activities and exploration and experimentation, we can help to instill a sense of self-esteem and a strong desire to learn. We endeavor to provide each child with a nurturing, healthy and stimulating environment where each child can comfortably reach his/her full potential.
Partnering with our richly diverse families, we strive to create a community of trust and mutual respect for all.