We are part of the Terracycle Project……help us by collecting pouches!
We have just joined the Capri Sun Terracycle Project, this is a fantastic and easy way to keep things out of our landfills while we make some extra cash for the center.
 Here's how it works:
Buy your favorite kind of juice pouch. It can be manufactured by ANY COMPANY and come in a variety of flavors, organic and even water options; all of which can be turned in for cash.
Remove the straw and bring the pouch into school or send in with your child as part of their lunch.
Pouches will be collected and sent into the Capri Sun Terracycle Project, and Little Frogs will be paid as much as two cents per pouch!
 It is that simple. You don't have to do anything special just keep doing what you are doing; buying your kids drinks, just DON'T THROW THEM AWAY!! Capri Sun will reuse their products to make other items; purses, wallets, and pencil cases to name a few, the other pouches will be used to make things such as new pouches, or brick and wood alternative decking/building materials. This project will show the kids that REUSE, RECYCLE can mean something more than just watching a truck haul away garbage and have them actively participate in helping our local landfill. Take a look at the Terracycle  store.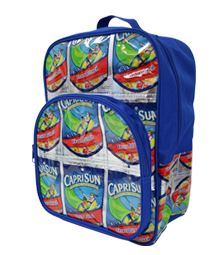 Unsure of what to buy?? CapriSun offers a variety of choices from their low sugar drinks to flavored waters and even 100% juice options. Looking for an organic option? Check out Honest Kids 100% juices. Looking for fun and inexpensive drink options? Target has a store brand that has no artificial coloring and many are high fructose corn syrup free, and of course Koolaid. Do you know another company not mentioned that someone might like? Let us know and we can pass it on. If you have any questions please contact Kathy Burtram (Lexi Burtram's mother) via email at kmburtram@hotmail.com