Newsletter – December 2011
Dear Parents,
           As we recover from the over indulgence of Thanksgiving dinner, I'm sure many of you are starting to think of the festivities ahead and holiday shopping. As you head to the stores please take a moment to shop for those less fortunate this year. Every year at Little Frogs we donate gifts to a few homeless families in NH. This year we are helping some families in the Manchester area. This is such a great opportunity to give back to the community. Art Taylor, CEO of the Better Business Bureau's Wise Giving Alliance, says, "As a parent, you have an obligation to use special occasions to instill the importance of giving in your children, and then support them in those projects."
 Charitable involvement helps children develop self-esteem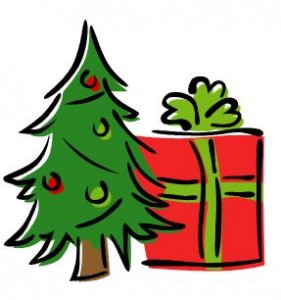 and more than anything it gets them to appreciate their own lifestyle. Dollars are tight for so many of us, but please try and make room in your heart and your budget this year to give a gift to the needy. Children love to give and getting them involved is a perfect way to show them the pleasures and fulfillment of charitable donations.
 If you want to get involved and be a part of our donation, just take a tag off our giving tree, purchase the gift on the tag and return the gift unwrapped with the tag no later than Friday, December 9th.
Dates for the Calendar
Center Closed

Christmas Day Observation – Monday, December 26th
New Years Day Observation –  Monday, January 2nd 2012

Scholastic Book Fair – Monday, December 5th thru Friday, December 9th . Our hallway will be lined with books your children will want to read. Shop by and pick up a holiday gift or let them choose an affordable treat now.

Kindergarten Field Trip  – Wednesday December 7th to Noel's Tree Farm
Nursery Field Trip – Wednesday December 14th to Noel's Tree Farm
Preschool Field Trip – Tuesday December 20th to Noel's Tree Farm.
Each classroom will have a sign-up sheet for volunteer parent chaperones for their field trips. Ensure you read & sign the permission slip. Unfortunately there is also a charge for chaperones on this trip too. This is a fun trip including the ride through the tree farm to see the trees in their various stages of growth. The merriment of the holidays will be experienced with warm cocoa and roasting of marshmallows around the fire. Every year the children have so much fun on this trip.
Museum Week – The children's artwork will be on display December 27th thru to the end of the month. This month's theme is 'Let's Celebrate!' Please stop by and take a look.
 As we head into the harsh winter months please remember to ensure your children have their cold winter clothes with them (snow pants, coats, boots, hats and mittens). As a reminder should the center be closed due to inclement weather anytime throughout the season the closing information will be published on WMUR News 9, on the radio at 95.7 FM WZID or on our website under News – Announcements. If you've never been to our website then add us to your favorites. Find us at www.littlefrogsandpolliwogs.com.
 Look out for the next newsletter in January – online, in your inbox and on the information board.
                                           Happy Holidays and Best Wishes for 2012
Members of the LF&P Parent Teacher Advisory Board